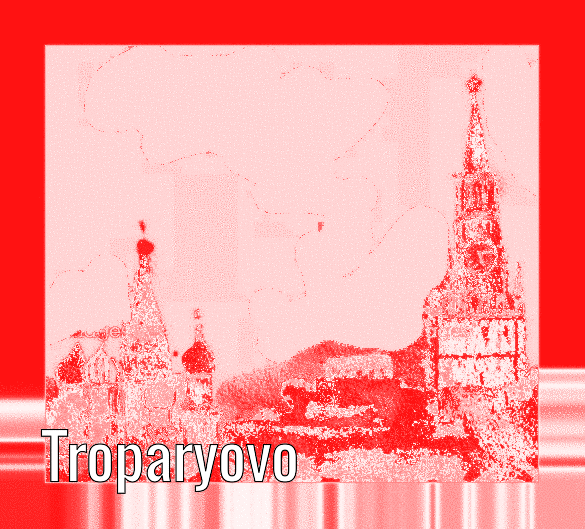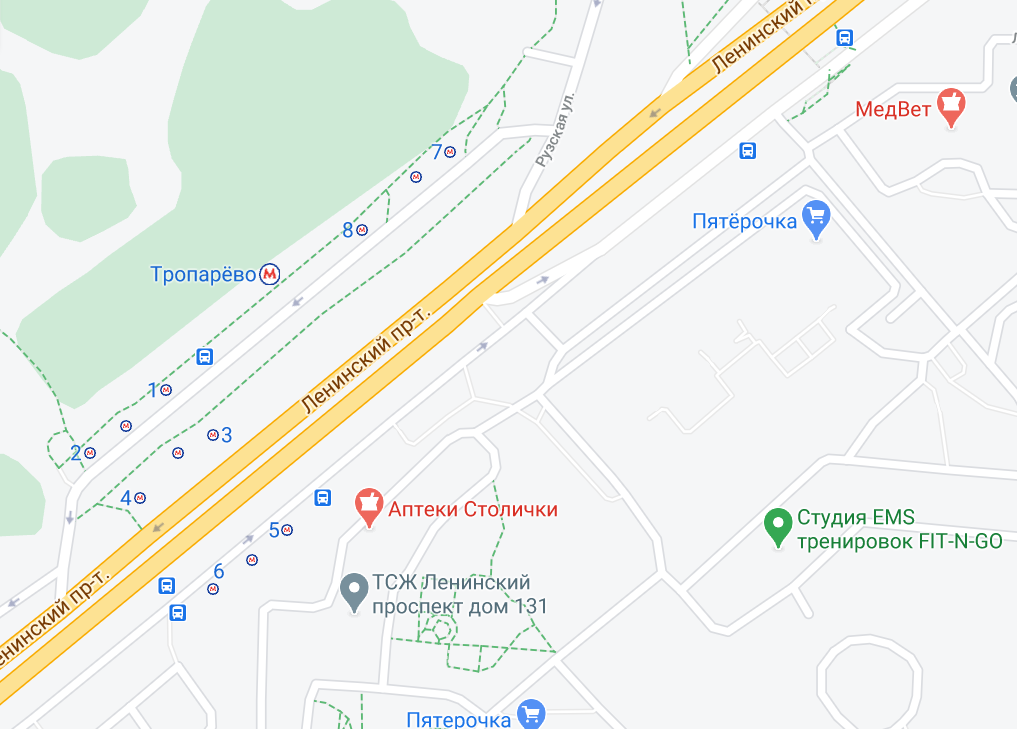 Troparyovo is a Moscow metro station located on the Sokolnicheskaya line between Yugo-Zapadnaya and Rumyantsevo stations. It is located on the border of the Troparyovo-Nikulino and Tyoply Stan districts, south-west of the confluence of Vernadsky and Leninsky Prospekt. The station was opened on December 8, 2014 and became the terminus of the southern radius of the line until it was extended on January 18, 2016 by one haul to the Rumyantsevo station. It was named after the Troparevo-Nikulino area.
Station design — single-vaulted shallow (depth — 12 m). The project was developed by the team of the Inzhproekt design bureau. The authors of the architectural solution are A. I. Tarasov, N. D. Deev, D. Zh. Polyakov. The station is designed as a single-vaulted one with one row of decorative structures built into the floor and directed towards the ceiling with a gleaming metal surface, stylized as trees (this is due to the fact that Muscovites associate Troparyovo with the forest park of the same name), as in Alma-Atinskaya. The project provided that, unlike the latter, the structures would not contain additional lighting elements, but would evenly distribute it due to their brightness and mirrors suspended from the ceiling (the light itself would come from diodes suspended between mirrors and trees). Approximately the same ceiling design has already been implemented at the operating station «Lermontovsky Prospekt» of the Tagansko-Krasnopresnenskaya line, but there a kind of ceiling is held by several lamellar supports at once.
After the installation of the first insert in May 2014, however, it became clear that this project was not feasible due to the inconveniences associated, firstly, with too bright mirror reflection of the backlight from the floor, and secondly, with an excessive load of thin wires on ornamental trees that pose a danger to people standing on the platform in case of wind currents. In July 2014, the first assembled line of ceiling mirrors and light paths was dismantled, and in August, Inzhproekt presented another finishing project, in which the ceiling structures are round chandelier-lamps surrounding the crown of trees. Thus, the need to mount huge mirrors disappeared, as well as the danger of overloading the supports. Due to changes in the project, construction of the station was slowed down from July to September 2014, which affected significant shifts in the opening date.